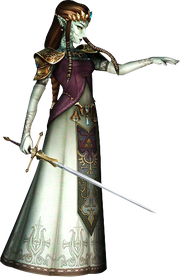 Zelda is Vincents ancestor and nemesis. She has EXTREME dark powers. She holds the Triforce of Wisdom.
Legend of Vincent
Edit
At the end of Part 2, when Ganondorf is killed, she raises out of a Dark Portal. In Part 3, she comes in the Tomb of the Hero, but shows mercy to Vincent with battling with a sword. She then gets killed.
Legend of Vincent: Zelda`s Betrayal
Edit
In LoV: Zelda`s Betrayal it was shown she had feelings for Ganondorf. She practiced Dark Magic and her body turned weird. That day, she killed her loved ones: Her dad and Link. 2 years later, she was killed by the Goddess.