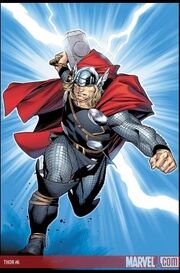 Thor's father Odin decided his son needed to be taught humility and consequently placed Thor (without memories of godhood) into the body and memories of an existing, partially disabled human medical student, Donald Blake. After becoming a doctor and on vacation in Norway, Blake witnessed the arrival of an alien scouting party. Blake fled into a cave after they heard him and began to pursue him. After discovering Thor's disguised hammer Mjolnir, and striking it against a rock, he transformed into the thunder god.
Ad blocker interference detected!
Wikia is a free-to-use site that makes money from advertising. We have a modified experience for viewers using ad blockers

Wikia is not accessible if you've made further modifications. Remove the custom ad blocker rule(s) and the page will load as expected.