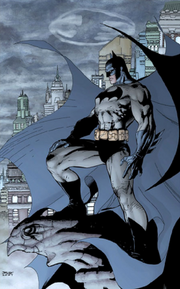 In his secret identity, Batman is Bruce Wayne, a wealthy businessman who lives in Gotham City. To the world at large, Bruce Wayne is often seen as an irresponsible, superficial playboy who lives off his family's personal fortune (amassed when his family invested in Gotham real estate before the city was a bustling metropolis) and the profits of Wayne Enterprises, a major private technology firm that he inherits. However, Wayne is also known for his contributions to charity, notably through his Wayne Foundation, a charity devoted to helping the victims of crime and preventing people from becoming criminals.[109] Bruce creates the playboy public persona to aid in throwing off suspicion of his secret identity, often acting dim-witted and self-absorbed to further the act.[110] Among the more noted measures he uses to maintain the facade is pretending he is a heavy drinker by claiming his glasses of ginger ale are strong beverages; Bruce is actually a strict teetotaler to maintain his physical fitness and mental acuity.
His Parents

Edit
Bruce Waynes parents died when Bruce was young. Bruce owned everything they had.
Ad blocker interference detected!
Wikia is a free-to-use site that makes money from advertising. We have a modified experience for viewers using ad blockers

Wikia is not accessible if you've made further modifications. Remove the custom ad blocker rule(s) and the page will load as expected.